Written by Emily Brown
Original Article here: http://www.newsadvance.com
FOREST — Cheers reverberated from one of the locker rooms outside Sabre Stadium on Tuesday evening. For visiting Loudoun County, there was plenty to celebrate.
It took less than six minutes for the Raiders to strike in the Class 4 girls soccer quarterfinal game. And they couldn't be stopped.
En route to a 4-0 win over Jefferson Forest, Loudoun County accomplished what no other team could this season. In 20 previous games, no team had scored more than twice against the Cavaliers — who'd only allowed six goals all year ahead of Tuesday's game — and no team came away with a victory.
"We had heard a lot of rumors through the grapevine — that they were [undefeated] and had so many goals and not many against — so we came into the game knowing that it wasn't gonna be an easy game," Loudoun County junior Taylor Kibble said. "We knew that they were a powerhouse in this area and in this region, obviously. But we came in not too cocky, came in and played our game. We knew if we played the way we had been playing the past couple of games, we knew we had a chance to win it."
Thanks to the work of Kibble at forward, the Raiders were in control throughout the game. Kibble netted her first goal in the sixth minute on an assist from Mary Perkins and went on to score all four of her team's goals.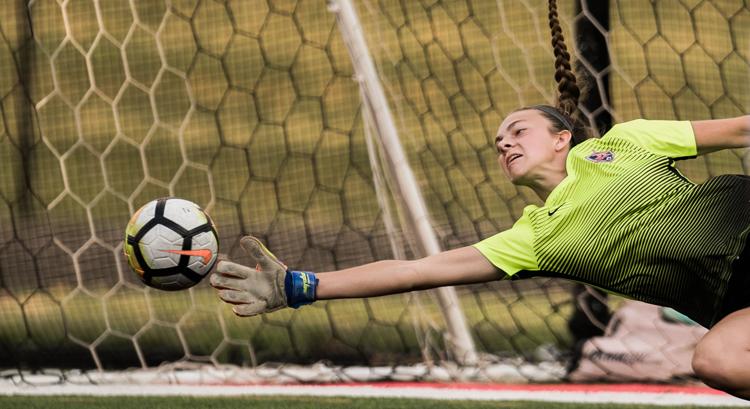 "She's just a pure athlete. She's strong. She's fast. She can turn on a dime," Loudoun County coach Olivia Mackey said of Kibble. "She's just an extreme threat at forward because of how athletic she is, and then with her soccer talent on top of that."
Kibble kept the pressure on and dominated against a worn-down JF defense, thanks in large part to the Raiders' midfield unit.
In a battle with a JF team that didn't lack toughness, the Raiders (17-6-1) were able to set up multiple goal-scoring opportunities. Loudoun County outshot the Cavaliers 18-13, putting 10 of those 18 shots on goal.
Kibble's second goal came in the 19th minute, on an assist by Miren Ahedo. Her final two tallies, in the 48th and 62nd minutes, were unassisted.
"She's definitely a goal-scorer. It's what she does best. … Every girl on our team can score, but she definitely scores the majority [of the time]," Mackey said of Kibble, who now has 48 goals on the season.
Kibble's quickness and ability to control the ball well with a good first touch, as well as her ability to make clean turns toward the goal, set up her easy final scores.
"I think I've worked in practice a lot being able to have my back to goal and being able to turn and push off in one touch," Kibble said.
Her third score, an easy goal when her defender slipped, knocked JF into uncharted territory. The Cavaliers hadn't ever allowed three goals in a game, and they couldn't climb back.
"I think not capitalizing on our opportunities when we could have would've given us a good boost," Forest coach Matt Newton said.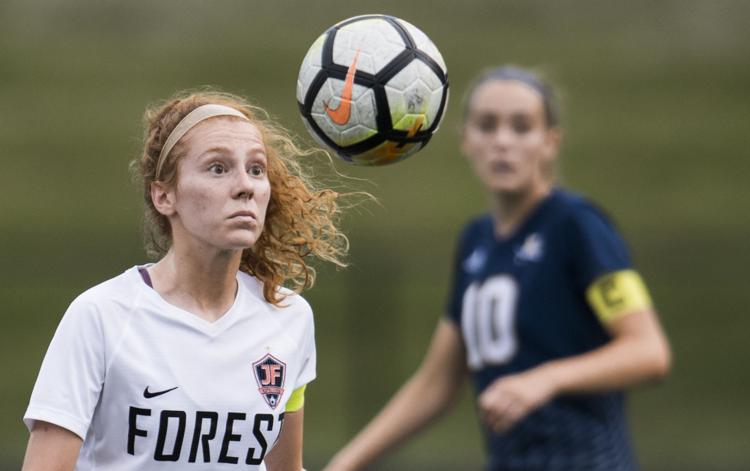 The Cavaliers had five opportunities to score on corner kicks. And in the 64th minute, the Cavaliers nearly had another chance, when Ava Davis broke into the box for a shot, but a trip went uncalled.
"I think in a different situation, we could definitely beat them," JF junior forward Olivia Magenbauer said.
JF had seven shots on goal despite missing out on some of the 50-50 balls it normally wins and making a few errant passes.
While it hadn't really faced a team who played with two forwards, according to Magenbauer, JF limited some of the Raiders' chances. The Cavaliers' back line, along with a midfield that had to play back for a good portion of the game, came up with a handful of important clears to save goals, and keeper Ali Austin had six saves.
"I think we had a good game plan for it, and when we executed, we did well, and we were able to stop their forward progress as well as get in behind," Newton said.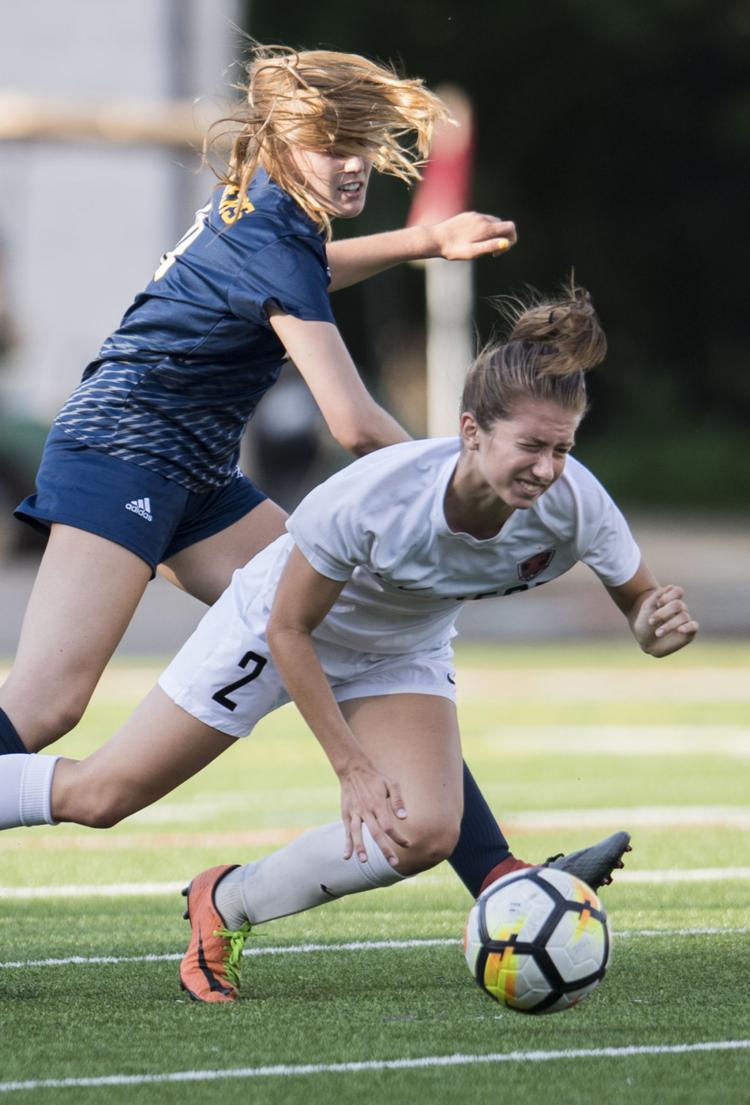 The Cavaliers came up short of repeating as state champions, finishing their season at 20-1, but became just the second girls soccer team in school history to go undefeated in the regular season.
"We're still proud of what they did," Newton said. "One loss doesn't overshadow a season. We're still a top-8 team in Virginia."
Emily Brown covers the Hillcats, ODAC and high school sports for The News & Advance. Reach her at (434) 385-5529.